Sniffing out the Competition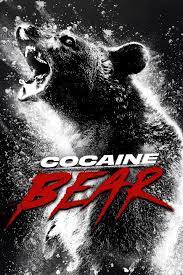 At the end of last February, one of the season's most anticipated movies came to theaters.  Cocaine Bear, a comedy horror thriller, has taken American cinemas by storm, grossing over $23 million on opening weekend. Cocaine Bear follows an American black bear who snorts a large amount of cocaine, and then embarks on a bloody rage-fueled rampage, terrorizing campers in a Georgia forest. 
The movie is loosely based on a true story dating back to 1985, when the Georgia Bureau of Investigation (GBI) found a 175 pound black bear dead from a cocaine overdose. It was later revealed that it came from the plane of Andrew Thornton – a convicted drug smuggler for Pablo Escobar – who dropped it from his plane above the Blue Ridge forest. This is where the movie drifts away from reality. Newly equipped with an addiction for cocaine, the bear runs around killing people in a comical, yet violent and gory way. If you come into this movie expecting to find some advanced plot or intricate storyline, you may find yourself disappointed. However, is this really a surprise? I mean come on, it's a movie about a bear on cocaine. Cocaine Bear excels at doing what it's meant to do best, and that's to provide you with a fun, thrilling watch. This feeling is definitely pronounced in the movie theater setting, and you can definitely feel an exorbitant amount of energy radiating from the audience as the movie progresses. When asked about his experience watching Cocaine Bear, Ramapo student Dillon Jusufi said, "I had a great time, and seeing it in theaters was really fun." These feelings seem to be mutual amongst many who watched. Ramapo teacher Mr. Wadhams reported on the movie, stating, "I heard great things about the movie from peers and others around the school, I definitely plan on watching it." While it may not be a "top priority watch," Cocaine Bear brings a fresh style to the recently dry movie scene and is sure to indulge you in an hour and a half of blissful entertainment and some quality laughs.