Creed III: Stepping Back From Passions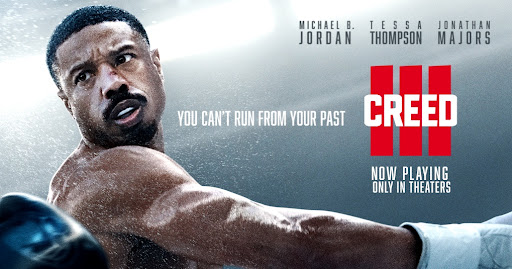 No Stallone?
Prior to its theater debut, it was rumored that the 9th movie in the Rocky universe would not include its star icon, Rocky Balboa, more commonly known as 'The Italian Stallion.' How could this be? Physics teacher at Ramapo, Mr. Wadhams was puzzled by this sudden change in the agenda for the movie. He pondered, "Why didn't he star in his own franchise?" Rumors turned into reality as it was revealed he had been in a long-term conflict with producer, Irwin Winkler, and completely cut all ties with the Rocky franchise. According to Men's Health, Stallone originally sold the franchise to Winkler in 1976 for just 100 dollars before the franchise amounted to anything. Not only did Stallone cut ties with the franchise, but he vows to never watch another Rocky movie while Winkler still produces them. Now that the elephant in the room has been identified, let's dive into the movie.
Stepping Back from Boxing
Like all inevitabilities of life, Creed III opens to Adonis Creed, played by Michael B. Jordan, enjoying life out of his boxing career and in retirement. Father time reaches even our favorite movie stars… or does it? Despite Adonis seeming content with retirement and raising his daughter Amara, it was short-lived when his past friend got out of jail. This friend, Damian, played by up-and-coming actor Jonathan Majors, immediately asks his old pal 'Donnie' for help returning to the boxing scene. Some events transpire and boom … the movie has Adonis back in the boxing ring quicker than you can blink an eye! As for the rest of the movie, I won't spoil it, but what Ramapo junior, Chase Luther said, might convince you to see it: "The movie gets you a very good pump to fight: so fire."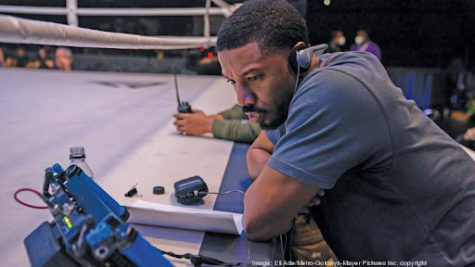 The Verdict
Not only students like Chase, but critics also had high praise for this movie. It was given 88 percent on the official Rotten Tomatoes website. The audience gave it an even higher rating at 96 percent. What really sums up the movie in its entirety was quoted by Stephen Romel of The Australian. He described the movie as, "Worth the price of a ringside seat" (Rotten Tomatoes). Stallone or not, this movie was a hit. It was also Michael B. Jordan's first movie also as a producer on the set; such an accomplishment is only done by the finest actors in Hollywood. The box office speaks for itself on the international outrage of the film: 234 million in revenue in the first two weeks of opening.
Trilogy Not Over?
Despite the end of Creed III hinting towards Adonis retiring for a final time, Michael B. Jordan has expressed there will be a Creed IV in the upcoming years. While Sylvester Stallone enjoyed every moment of his time building the Rocky universe into what it is now, it seems as though the younger generation has taken firm charge of the franchise he built. Though it may seem parallel that Adonis is stepping away from boxing and Stallone is leaving the Rocky franchise, Creed IV gives some hope that not only Adonis' career of boxing hasn't stalled, but also a Stallone-Creed reunion could be on the horizon. For now, everyone must wait to find out!