How To Survive Valentine's Day: Read Rom-Coms!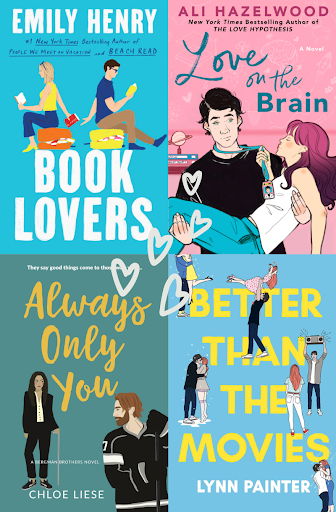 February usually means one thing to most: Valentine's Day. If you have a partner, this is typically a romantic and heartfelt month, with cute dates, presents, and chocolate. If you're single, it means dreading when all your friends talk about their dates and feeling lonely… Luckily for those of us who are single, romantic comedy books are perfect for when you need a cute love story (to make up for the lack of one in your own life 🙁). There are a myriad of romance books with so many genres that cater to all your tastes! Be advised that this list is catered to young adult and adult ratings; if you are younger than the intended YA audience, consult an adult or reviews of the book before reading. If any of these books interest you, visit your public library or the Ramapo High School library! Without further ado, here is a compiled list of 4 contemporary rom-coms, each with different sub-genres. 
1. Of course, the logical first recommendation is the book that won the Goodreads Best Romance Award for 2022. Book Lovers by Emily Henry, declared a romantic comedy classic due to its popularity, follows Nora Stephens and Charlie Lastra as they navigate the evolution of their brooding, rivalry-filled relationship against the backdrop of the small town of Sunshine Falls, North Carolina. Not your typical rom-com female lead, city-girl Nora is a ruthless literary agent best known for being ambitious, cold, and book obsessed. Charlie, a book editor from New York, shares Nora's penchant for keeping others at arm's length, coming across as severe and unfeeling. Yet, despite desperate attempts to avoid each other, the pair collide and end up having more in common than they both thought possible.
2. Ali Hazelwood is known for her debut novel, The Love Hypothesis (which she absolutely killed), and her love for women in STEM. But I believe that Love on the Brain, her second novel, is her best work. Love on the Brain follows neuroengineer Bee Königswasser through her new job at NASA. She leaps at the chance to chase her dreams but quickly begins to backtrack when she realizes she is working with her college rival, Levi Ward. The novel shows multiple facets of Bee's life, including her admiration of Marie Curie and her popular Twitter account titled "What Would Marie Do?" supporting women in the STEM field. Student and avid reader Lauren Fleissner claims Love on the Brain is perfect for someone who is "into science and perfect banter (and doesn't mind cringing every once in a while at a dumb science pun)."
3. Sports romance novels have always been near the top of the rom-com popularity list. Although this novel is not extremely popular, I believe that it deserves to be on this list because of its amazingly diverse representation. The book Always Only You by Chloe Liese is the second in the Bergman brothers' series and follows Frankie Zeferino, a hardworking woman known for her deadpan comments and irritable personality. Ironically, Frankie has attracted human-sunshine and hockey player, Søren—Ren—Bergman, to her side while working as social media coordinator for the team. Ren is the definition of a sweetheart who prefers his Shakespeare book club meetings to parties, and loves Frankie's hidden soft side. This novel combines many beloved book tropes, such as opposites attract, forbidden love, nerdy athletes, and tough people with a tender center. Frankie, an autistic heroine with a walking disability, is an inspiring rom-com character because of her undeniable drive and determination.
 4. Better Than the Movies by Lynn Painter follows hopeless romantic Liz Buxbaum and the transformation of her hostile relationship with neighbor Wes Bennett. Regretfully, Liz desperately needs Wes's help to implement her plan: score a date with her long-time crush, Michael, for senior prom. As Liz and Wes scheme, an unexpected, most definitely unwanted bond develops, and Liz is forced to rethink everything she thought she knew about love. Fleissner dubs this novel "perfect for romance movie lovers, Taylor Swift fans, boy-next-door lovers, and hopeless romantics.". She also mentions that the book has a soundtrack and urges readers to listen!
If any of these books interest you, check them out at the library! Mrs. Ferro, Ramapo High School librarian, speaks on her personal book recommendations saying, "if I were grabbing a book off the shelf, I'd choose Something Borrowed by Emily Griffin or even The Summer I Turned Pretty by Jenny Han." Mrs. Ferro urges all students to look for books in the library, as they own popular authors such as Colleen Hoover, Nicholas Sparks, and Jenny Han. Happy reading, Ramapo!