One Giant Leap: Giants 2022-2023 Season Recap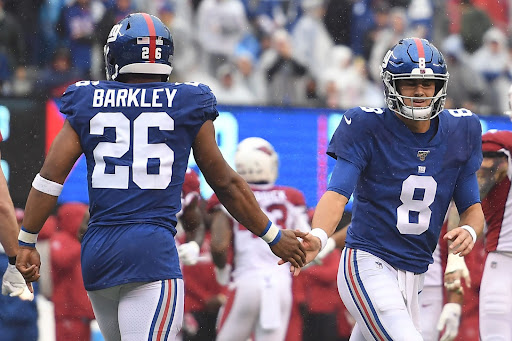 After a dismal 2021 season, the New York Giants finished last in their division with a 4-13 record, demanding major changes heading into the 2022-2023 season. In the first order of business for the new season, the Giants hired former New York Bills offensive coordinator Brian Daboll to lead as the new head coach. With the addition of Daboll, along with a promising rookie class, optimism settled over New York and things seemed to be looking up for the Giants.
From the moment the 22-23 season kicked off, it was obvious this Giants team was different. Head coach Brian Daboll took a stance, solidifying himself as one of the most prestigious coaches in the league. With steadfast leadership and relentless coaching, Daboll successfully transformed the culture and play of the team. With the help of the returning all-pro running back Saquon Barkley, and breakout years from team stars QB Daniel Jones, OT Andrew Thomas, and DT Dexter Lawrence, the Giants finished the regular season with a 9-7-1 record, yielding their first playoff-berth in 6 seasons.  
In the postseason, the Giants upset the Minnesota Vikings 31-24 in the Wild card Round mainly due to the efforts of Daniel Jones, WR Isaiah Hodgins, and Dexter Lawrence. However, on January 21, 2023, the New York Giants suffered a tough loss of 31-7 to the Philadelphia Eagles in the divisional game, ending the season in elimination. While this was not the season finale Giants fans were hoping for, fans can certainly be proud of the Giants and their success – which exceeded expectations – and can feel even more optimistic about the future. Student Yazan Tinawi believes "people underrated us in the beginning of the season" and that "for the first time in years, there was a new feeling watching this Giants team."
Looking ahead, the Giants have positioned themselves for a strong start in the next season. With the right moves, New York should be able to make a return to the postseason. Ramapo faculty member Mr. Walty believes that "the Giant's off season priorities need to be re-signing Daniel Jones to a reasonable contract" and "acquiring either DeAndre Hopkins or Julio Jones." Should their momentum continue to build, along with the right offseason moves, they may just prove worthy of super bowl contention once again.