Senior Spotlight: Lily Frick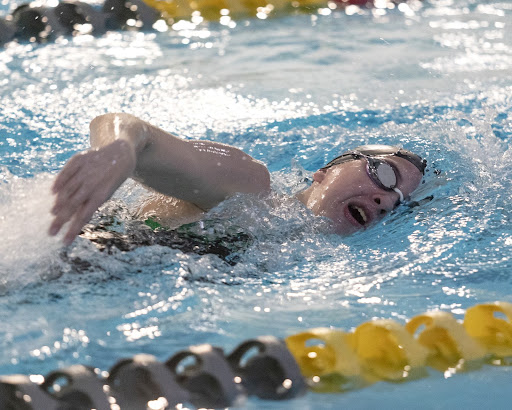 Lily Frick, one of the Ramapo Swim Team's most successful seniors, has really made a splash in the high school swim world. From her incredible times to her love for her team, Frick is the exemplar for a star swimmer. 
When asked what she took away from her four years on the swim team, Frick stated, "I've learned that the 500 free does not get any easier no matter how many times you do it. I'll miss my coaches and my teammates."
Fellow teammate and captain Katie Paul has " been swimming with Lily since [they] were six years old."" She "c[a]n't imagine [swimming] without her."
To Erin, fellow captain, "Lily is a true inspiration. She shows up and always tries her hardest. I like to think of her as someone who will push herself no matter what."
Senior Riley, a fellow senior and teammate, had this to say about Frick, "Swim brought us closer. Her effort was really inspiring and made me want to be like her. Every time I see her at swim, I want to do better […] because I want to measure up to her skill. I hope she continues to swim and I'll miss her."
Assistant Coach Suzanne Lucas describes Frick as, "amazing. I have never seen anyone swim as fast as her. She puts a lot of effort into the team, and the team will miss her next year as she continues her education."
Frick has accomplished so much in her four years on the team. In the Big North Conference during her Junior Year, she placed Ramapo in second place for the All Division Team. At Leagues of the same year, Frick scored third place in 500 freestyle with a time of 5 minutes and 42 seconds. She also scored third in the 200 individual medley with a time of 2 minutes and 21 seconds. Her final event was the 400 freestyle relay, in which her team scored third. Due to her incredible work during her junior year, Frick received the Coaches Award. During her senior year, she scored third in the 500 freestyle during counties.
Frick has dedicated herself, body and mind, towards swimming and being the best that she can possibly be. Both coaches and teammates alike have agreed that she is and will always be the example of excellence. Frick will continue to strive for excellence in college, and we on the team will miss her incredibly.