Ramapo Boys Basketball: Story of Success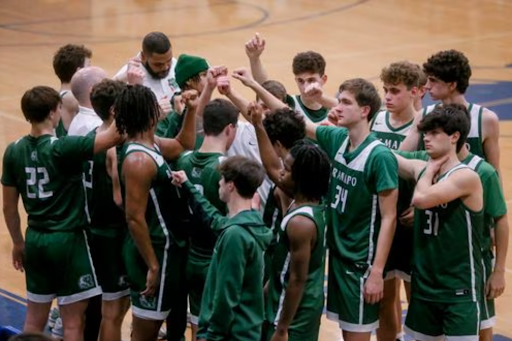 Since the beginning of the season, Ramapo's boy's basketball team has been on fire. Starting the season off with a 13 – 0 record, Ramapo has not slowed down. Currently, the team holds an astounding 20 – 2 record entering the beginning of February (NJ.com). The team continues to make headlines across the state, highlighting their sheer dominance and success. 
Through their outstanding defense, free-flowing offense, and tremendous coaching, the Raiders have established themselves as one of the teams to beat in New Jersey high school basketball. Ramapo is currently ranked 4th in the state, and 1st in Division Group III (CBS Sports).  They are also the favorites to take home Group III's division title, which they secured last year. 
The team is full of phenomenal players and talent. Ramapo has become known for their formidable guard play consisting of Peyton Seals, Chris Cervino, Zach Schnorbusch, Wyatt Eglinton Manner, Nathaniel Burleson, Jordan Ricks, Christian Stettner, Ryan Goldman, and Filip Stojkoski (MaxPreps). Mr. Del Buono, the commentator for the home games, remarks, "Our guards can score anywhere, can finish, distribute the ball effectively, shoot high percentages, and are always a matchup problem for opposing guards." Their success is also a product of the sensational forward action by Nehemiah Burleson, Jake Scalabrini, Charlie Wingfield, Nick Gurba, Max Baczynski, and Alex Woodring (MaxPreps). Our forwards have been said to play bigger than they are and help grind out the game to a wide margin of victory.
Another huge factor in Ramapo's success has been the incredible system and mentality that the coaching staff has assembled. Coach Nick Vier and his staff have done an impressive job organizing the team's unique and unstoppable style of play. Through timely cuts, taking high-percentage shots, playing smart, and focusing on defense, the Raiders have become a juggernaut that few teams can stop. One of Ramapo's star guards, Wyatt Eglinton Manner, explains how, "communicating with each other and the coaches" and "putting in the time and effort during practices," is really the key to their success. 
As the season progresses, the Raiders hope to continue their dominance and can use all the support they can get. With that being said, let's go Ramapo!