Senior Spotlight: Nick Marino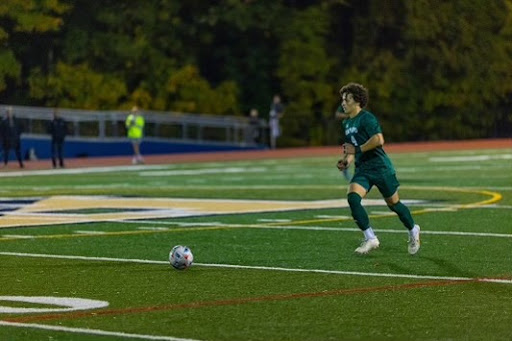 #4, Nick Marino, is the starting left defensive player on the boys varsity soccer team. He has loved the game of soccer since he was 4 years old. He played on many different club teams such as Torpedoes, Bergen Bulldogs, and World Class. He is constantly playing, working hard, and training in order to grow as a soccer player. Being a senior, this is Nick's last year playing soccer for Ramapo and he was awarded with Bergen Country Best 11, first team all division, first team all county, and BCSCA all-star. He was picked to play in the all-star game and spotted by many different college recruiting squads from around the Northeast. 
After this year, he decided it was time to find where he wanted to continue to play soccer. He had many options such as Stonehill College or Merrimack College, but ended up deciding to go to Widener University to continue his soccer career playing for the D3 soccer team. 
Throughout Nick Marino's last year playing at Ramapo, he had many great runs, passes, and crosses to help the boys team succeed in their season. Not only did he make two beautiful assists this season, but he also was able to score his first goal in his highschool career as a defensive player (NJ.com).
Nick's old coaches had nothing but words of praise for his prowess on and off the field. Coach Yasosky says, "I've known Nick since he was a young player at Bergen's Best Soccer Camp! Even back then Nick had such a passion for the game and was such a competitor. As Nick got older, he still has that fire behind him. He is that teammate that inspires everyone around him to work harder. His energy is contagious, he's a great leader from the minute the guys get  in the huddle all the way to his actions through his play on the field. His preparation for each game was spot on. Terrific teammate and a physical presence on the field.  As a freshman coach, my players would go and watch all the varsity home games and were able to see his hard work, toughness, and effort on the field. He was a great role model for all the young players and was always there for all of them" (Yasosky). He then continues to say, "The boys won the Bergen County Tournament for a second year in a row and Nick and the rest of the team worked together "As One"  to achieve that. We are truly going to miss having Nick on the team. He left such a positive impact on everyone in the program!" (Yasosky).
When asked what his favorite thing about playing soccer at Ramapo was, Nick responded with, "I loved bonding with my teammates on and off the field, they became my family for the season and some of them grew to become my closest friends" (Marino). He then spoke about how he was excited for a new team and new people at college. He is excited to start new and get another four years to do what he loves.
Overall, Nick Marino is a great team player, hard worker, and brilliant defender. He is sad to leave the Ramapo soccer team but very excited to start his new journey playing soccer at Widener.