Serve It, Smash It, Win It, Love It: Ramapo Girls' Tennis Fall Recap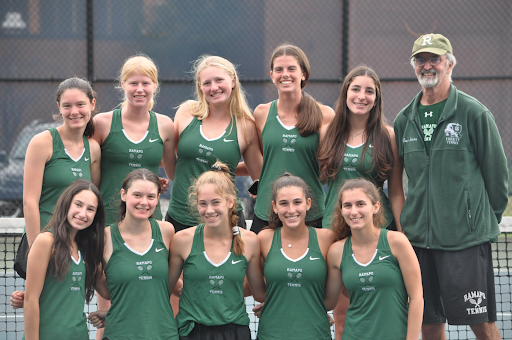 Tennis requires unparalleled physical and psychological strength, speed, and flexibility, not to mention incredible hand-eye coordination. To excel at tennis is a difficult feat, one which the Ramapo Girls' Tennis Team has mastered. According to Head Coach Kim Marchese, the Girls' Tennis Team "had a phenomenal season this fall." Having won League and County titles and pivotal matches against rivals Northern Highlands and Ridgewood, the team was 17-2. This year's Bergen County Tournament Championship victory, as stated by NJ.com, is "Ramapo's first since 2014 and 20th all-time dating back to 1975." Also State Sectional finalists, the team lost to Tenafly by one point with a score of 3-2.
As the Ramapo team well knows, teamwork is essential to any victory. Senior Captain Giselle Sinoway stresses how she and her fellow players "always support each other. When each individual match is over, [they] stand and support the other matches and cheer each other on." Sinoway goes on to mention that the girls engage in a "team huddle and talk before every match," during which they "hype each other up." Heavy emphasis is also placed on "team bonding after practices." Senior Co-Captain Lily Della Pietra mirrors Sinoway's sentiments, claiming, "The team worked really great together, and we did well because of how much we supported each other. Whether we were on the court or in the stands, every team member made sure to encourage one another. Also, even though we didn't have many practices once the season started, we made sure to have fun and support one another during those times." This dedication to building relationships on and off the field is the core of the Ramapo Girls' Tennis Team's success. Their unity is the force that drives them, inspiring resilience and compelling them to strive to reach their greatest potential. The athletes on the Girls' Tennis Team play, and win, for each other.
Granted, every team is made up of unique individuals, each of whom make their own contributions to better the whole. Given their impressive accomplishments, these players deserve a shoutout. To begin, junior Olivia Ring earned the title of County Third Singles Champion. As explained by Coach Marchese, Elizabeth Ring and Caroline Baker won first doubles, were named First Team All-county, "upset the #2 seeded team to reach the semifinals," and "were selected to the 2nd team all-state squad." Sinoway and her junior partner, Chloe Heller, were named Second Doubles County Champions. Further, sophomore Cadie Sauter and junior Ella Saxton, who play first singles and second singles respectively, both earned a spot on the First Team All-league. Sauter, Saxton, and junior Elizabeth Hartgers all made Honorable Mention All-league.
We at Ramapo are very proud of each and every member of our Girls' Tennis Team. Congratulations on winning Counties and Leagues!
Works Cited:
https://www.nj.com/highschoolsports/2022/09/girls-tennis-ranked-ramapo-holy-angels-win-bergen-titles-yakoff-3-time-singles-champ.html#:~:text=Congratulations%20to%20our%20Girls%20Tennis,Coach%20Marchese%20and%20our%20team.&text=Ramapo%20won%20at%20third%20singles,five%20courts%20in%20its%20tournament
https://highschoolsports.nj.com/school/franklin-lakes-ramapo/girlstennis/season/2022-2023