Hocus Pocus 2: A Haphazard Paradox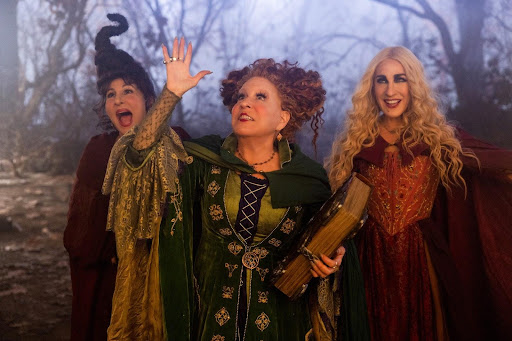 It's hard to top a kid's movie where, within the first five minutes, a child is killed and their soul is sucked out. Hocus Pocus 2, directed by Anne Fletcher, tries to do just that. The first Hocus Pocus, directed by Kenny Ortega, was released in 1993 and featured a trio of witches known as the Sanderson sisters. In the original, Winnifred Sanderson (Bette Midler), Sarah Sanderson (Sarah Jessica Parker), and Mary Sanderson (Kathy Najimy) are resurrected after a bewitched candle is lit on Halloween, and a trio of friends try to stop them from devouring all the children's souls in Salem, Massachusetts. The sequel picks up in the present day, 29 years later, and follows the original's plot with a few modern twists and new acts of debauchery, while still carrying on the delightful camp. Despite this, the second is sloppily put together and watered-down when compared to its witty and ebullient predecessor.
The Sanderson sisters' appeal is what keeps viewers sitting through this sequel. Unfortunately, most of the other characters and the dialogue are painfully dull. Keira Duffy, a sophomore at Ramapo High School, shares, "It wasn't engaging, really – I couldn't make it past the first 10 minutes." Regardless of these issues, Hocus Pocus 2 is somewhat enjoyable and reasonably successful in carrying on the legacy of the first.
Because of the original movie's success, it's no surprise that this cult classic got a sequel. Halloween classics are notorious for having repetitive sequels, prequels, and spinoffs that decrease in quality as time from the original release grows. Ramapo High School English teacher, Mr. Samarro, points out, "[…] it can be really difficult to make a sequel work. If the goal of making the sequel is simply to make more money, it's usually pretty apparent to the audience." Hocus Pocus 2 has tried to break away from this cycle. The film has an average of 3.0 out of 5.0 on the movie-review app Letterboxd, while the first has a 3.5 average. While Hocus Pocus 2 experienced a drop in ratings from the original, it is definitely one of the more successful Halloween sequels. By avoiding a ratings plummet, Hocus Pocus 2 is a success when weighed against other "Halloween-classic" sequels
Hocus Pocus 2 also tries to tackle both nostalgia and modernity. Sequels like this should appeal to two groups, evoking memories for adults while simultaneously carrying out modern trends and quips for those younger. As such, this sequel's core audience is composed of elementary-age kids and their parents (who saw the original in their youth). Albeit with lesser quality, original viewers are able to find some child-like nostalgia in this sequel. Younger viewers may respond to the beloved tropes from the first that are reworked and put into a modern child's view. Essentially, Hocus Pocus 2 is a paradox full of that 90's nostalgia for the older generation and a new look of freshness for the younger generation.