Loud And Proud: Drum Major Clara Bennett-Jones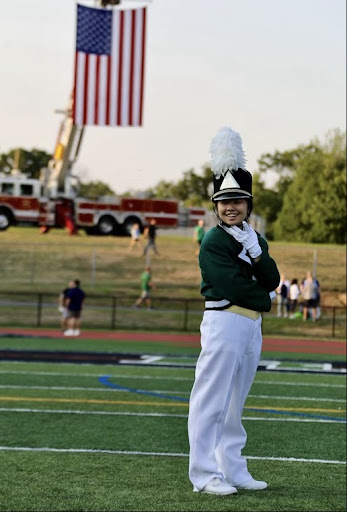 When the marching band begins to play, maybe your first thought is "football." Maybe it's "Sweet Caroline" or "Head Chops." Well, it should be Clara Bennett-Jones, one of the 2022-2023 drum majors of Ramapo's Marching Band.
Currently in her second year as drum major, Bennett-Jones describes her responsibilities as "teaching marching and music, managing student leaders, conducting during performances, and communicating between staff and band members," all of which she handles with expertise and natural authority. According to Marching Band advisor Mr. Sloezen, "Having such a reliable student leader like Clara has been instrumental in the success of the season."
Yet, even those born to lead face the challenges of their command. Confronted with the struggle of being in a position primarily occupied by "big, tall guys who basically command[…] respect," Bennett-Jones may be small, but she doesn't let anyone stand in her way. Being a drum major is "a constant balancing act between being a friend and being a drum major, and although it's difficult sometimes, it's more than worth it and [she] wouldn't trade it for anything." Humble yet confident, Bennett-Jones's persistence is admirable and has effectively caught the attention and admiration of all. One such person is drum major Ariana Giammanco, who praises Bennett-Jones as "always efficient in what she does and [..] able to adapt to any situation and make the right decisions. I could not have asked for a better partner to work with me. Clara has always been there to help me learn my role and give me advice […]. She is so confident in her instruction and in whatever else she does, which really motivates me to work harder to match the amount of work she consistently does every week. She truly deserves the position that she has now." An undeniable source of inspiration, people listen to Bennett-Jones – when she calls, they march along to the beat of her drum.
After all, music is in Bennett-Jones's blood. As she explains, her "entire family is incredibly musically inclined, and as the youngest of four, it was a natural desire of mine to pursue music." Inspired by her older sister, who served as a drum major at Indian Hills, Bennett-Jones "remember[s] being 11 years old and coming back from my sister's marching band performances, running up to my room, and pretending to be the conductor of my own little band. Having the opportunity, 6 years later, to make that dream a reality is a real full circle moment in my life, and I'm incredibly grateful for my experience as drum major." Inundated in a home life rich with music and recipient of the Instrumentalist Magazine Merit Award and First Chair Award, Bennett-Jones has already proven to be a very accomplished musician.
Her achievements are remarkable, but it is Bennett-Jones's compassion that makes her stand out. For Bennett-Jones, "Being drum major gives me the opportunity to take my passion for music and spread it to other people. I try to make practices and games enjoyable, so if I've strengthened even one band member's love for music, I feel I've done my job."
Clara Bennett-Jones is the beating heart of Ramapo's Marching Band. Her impact is forever embedded in the Ramapo Community, a strain of music that will never be forgotten. Clara, whatever your future holds, we know your music will be loud and proud.