School Violence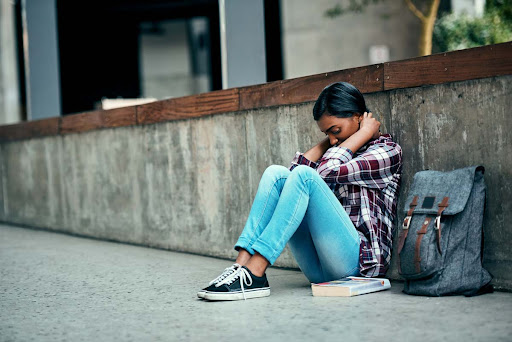 In recent years, it seems as though violence in schools has been rising. This has led to many students, as well as teachers, being on edge and hyper-aware of their surroundings in school. One government website explains that "during the 2017–18 school year, 80 percent of public schools recorded that one or more incidents of violence, theft, or other crimes had taken place, amounting to 1.4 million incidents" (National Center for Education Statistics). It is not an uncommon event for violence of any kind to occur, especially in schools where students spend almost all of their time.
This can be a nerve-racking thought for many, as "about 5 percent of students ages 12–18 reported that they had been afraid of attack or harm at school during the school year" which is "higher than the percentage of students (3 percent) who reported that they had been afraid of attack or harm away from school during the school year" (National Center for Education Statistics). Even students at Ramapo have opinions on the topic. High school Junior Gianna Imparato reveals that "since the pandemic, students have lost empathy for one another and became used to treating their peers like they would on social media." This disconnect, she believes, has led to school violence becoming "prevalent in schools."
As students, this information can come across as overwhelming. Luckily, there are a few things we can do to relieve some of this anxiety. First, we have to understand the warning signs that accompany someone who might be about to commit a violent crime. An article from an organization entitled Kids Health lists playing with weapons, animal cruelty, making threats, and "talking a lot about violent movies or violent games" as indications that one might be about to engage in crime (School Violence: What Students Can Do). Kids Health also recommends understanding the reasons that school violence occurs and talking it out with friends, teachers, and trusted adults can be beneficial to lessen some of the stress this issue may cause students. 
Ramapo English teacher Mrs. Krawczyk details a time when "one of [her] students wrote a research paper on school shootings." While aiding the student in thinking of a gripping first sentence for the essay, "[she] got chills" when the girl explained that "her backpack had a bulletproof insert–a telling detail that made for a strong introduction, but also a tragic necessity for 21st-century students." Mrs. K explains that, "While school shootings are statistically rare, it's hard to take comfort in cold facts alone. [She] feel[s] callous assuring [her] students with logic; a one in ten million chance of death by gunfire doesn't take the sting out of the cumulative effect gun violence has on us all." Essentially, school violence is an issue this generation faces constantly whilst trying to achieve an education. Consequently, it is crucial to understand the problem so that we can do our best at diminishing the problem itself and our concerns surrounding it.