Kaiyapalooza: A Night of Fun and Fundraising For a Special Young Woman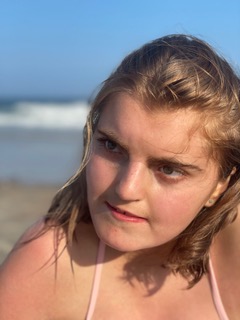 Most people have heard the African proverb that opines, "It takes a village to raise a child." The Ramapo High School community has enthusiastically embraced the wisdom of that adage. For the last twelve years, with the exception of the pandemic years 2020 and 2021, the faculty, students and parents of Ramapo have joined together to become what could be described as "Kaiya's Village" in support of Kaiya Barber, daughter of beloved faculty member Mr. Lee Barber and his wife, Jill. What began as a friendly hockey game in 2010 between sister schools Ramapo and Indian Hills, in an effort to help finance Kaiya's costly medical care and therapies, has evolved into one of Ramapo's most beloved traditions appropriately named Kaiyapalooza.
            Beautiful Kaiya was diagnosed at birth with a rare genetic disorder called Cornelia de Lange Syndrome (CdLS).  CdLS is usually a result of an acquired mutation in one of seven genes. It causes a broad range of potential physical, cognitive, and medical challenges (CdLS Foundation). Of course, providing the medical care, therapy and treatment for such a disorder can be financially crippling to a family who is already facing the emotional and physical challenges that such a diagnosis most certainly brings. In an attempt to ease the Barber's financial burden, as well as provide a time of fun and frivolity for Kaiya, the Ramapo family annually sets aside a night to raise money and celebrate the precious gift that is "our" Kaiya. 
            Kaiya undergoes myriad medical regimens, but one of the therapies that has brought Kaiya a lot of joy and has also led to her making huge strides in the development of her motor skills is horseback riding. Mr. Barber elaborated, "Since she was two years old she has been doing speech therapy and occupational therapy on a horse. The rhythmic pattern of the gait of the horse mimics the weight shifting we experience when we walk. Her core muscles also get a workout riding the horse and this help contributed to her eventually starting to walk at age four."  Therapeutics, like horseback riding, have proven to be crucial and life changing for Kaiya. It is creative therapies like this, called hippo-therapy, as well as the cost of her traditional medical care, that Kaiyapalooza helps finance. 
            Seniors Julia Pesce and Christa Mattessich had the self-described honor of serving as co-chairs of this year's iteration of Kaiyapalooza, which took place on April 19th at the school. Pesce and Mattessich, together with their devoted committee, began meeting at the end of September 2021 to plan the event. They worked tirelessly throughout the school year to gather donations, secure sponsors and design a program of fun activities for the much-anticipated fete. They procured over thirty-five baskets for the raffle and organized games of spike ball and corn hole, among others. Opportunities were also provided for participants to engage in face painting, hair chalk, and glitter tattoos. There was certainly something for everyone. 
            The highlight of the evening, however, was most certainly the arrival of Kaiya. Co-chair Mattessich described the guest of honor as, "a bright and beautiful girl." Mattessich went on to happily expand on the effect that Kaiya had on the attendees by explaining, "She definitely caused contagious smiling across the crowd." 
            Co-chair Pesce added that her favorite part of the evening was "seeing the Ramapo community come together and support the Barber family." Pesce shared that there were volunteers from a plethora of Ramapo sports teams and clubs including, among others, the basketball team, the cheerleading squad, and the National Honor Society. She waxed, "Because this event hadn't been held in-person for two years, we were thrilled to see the support we gathered from the Ramapo community."
            It was clear to all in attendance that Kaiya is a special young woman and is loved by so many people.  Certainly, no one appreciates her beautiful qualities more than her parents. Mr. Barber shared that, "Kaiya has taught us the meaning of life . . . love. There are good days and bad days, but as soon as Kaiya gives us her beautiful smile everything is perfect! Even though Kaiya is non-verbal she communicates with her eyes and smiles more than words ever could." There is no more beautiful testimony than that. 
            Planning and producing an event as iconic and important as Kaiyapalooza takes a great deal of dedicated effort. The tremendous commitment of the co-chairs and their committee is not lost on the Barber family. Mr. Barber shared his appreciation by saying, "We would like to give a big thank you to Julia Pesce and Christa Mattessich for organizing Kaiyapalooza.  A lot of people don't realize it but I truly have nothing to do with organizing the event, it is totally organized and run by the students. It requires a lot of time and effort to make an event like this happen. We are very grateful. This year's Kaiyapalooza will enable Kaiya to literally get back on the horse." The Ramapo Village is pleased to be able to play a part in helping to hoist Kaiya back into the saddle.  
            Yes, the African proverb is correct, it does take a village to raise a child. But, it is abundantly clear that Kaiya Barber has certainly elevated this village as well.