A Ramapo Fall Sports Recap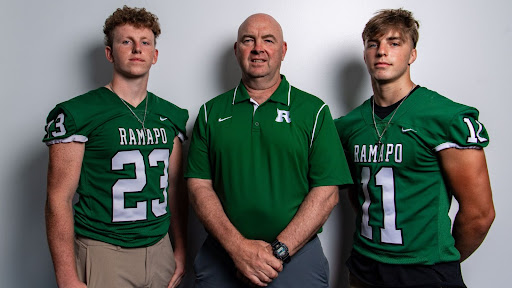 A season filled with ups and downs, this fall sports portion of the year is surely one to talk about. Being the first sports to return to almost-full normalcy after the pandemic and lockdown, these teams gave Ramapo a glimpse of not only our future this year regarding other sports, but also the success we will have in our other sports. In classic Ramapo fashion, these fall teams presented their uncanny skills and sportsmanship to the New Jersey high school sporting community. While our fall sports vary greatly, ranging from football, to gymnastics, to cross country, all of them showed how they are special in their own ways.
Let's take a look at Ramapo's fall sports teams and the great things they all accomplished this season:
Football:
It's impossible to think about Ramapo football without thinking about Coach Gibbs and the team's success this season surely displays his incredible mastery of the coaching and mentor position. The team finished with an incredible 10-2 record, making it to the sectional finals game against Northern Highlands. Although the team ultimately did not make it to the finals against Irvington, the team showed to us and the New Jersey football community that they are a force to be reckoned with. The game with Northern Highlands was a spectacle to watch for any football fan and all of the players played their best. Throughout the season, seniors Jack Remo, Dylan Snee, Robbie Travers, Daniel Goldberg, and many others proved their worth as leaders and players with many of them receiving offers to play football at the collegiate level.
One of the captains of the football team, Dylan Snee, has high praises for the team.
"I thought the season went well," says Dylan. "We're a little disappointed that we did not reach our final goal of winning a championship, but I feel like with the way we played and the adversity we faced, we really grew together as a team and I think of these boys like brothers. So we didn't win, but I feel like we won in other ways that developed us into young men and gave us lessons for the rest of our lives."
Boys Soccer:
The Ramapo boys soccer team showcased both their dominance and mastery of the sport throughout their recent season. Under head coach Evan Baumgarten, the soccer team finished with an outstanding overall record of 17-1-2. Not only that, but the team also secured itself its first Bergen county championship since 2017, going down as the 14th overall county title in Ramapo history (NJ.com). According to the North Jersey Interscholastic Conference, the Ramapo team finished as the number 1 seed in the North Jersey rankings.
Numerous players on the team have also gained high praise from the Bergen county soccer community including 1st team All-County players such as Sam Ware, Alim Lita, Cole Duschang, and Nick Marino, along with 2nd team All-Country players Kevin McDonough, MJ Dungo, and Jayden Onal (Ramapo Boys Soccer Twitter). Seniors Sam Ware and Alim Lita were especially dominant on offense through their great leadership and skills on the field. Both of them finished with an outstanding total of 39 points (NJ.com).
Girls Soccer:
Head coached by Maddie Dalie, the girls soccer team established themselves as a dominant force within the New Jersey soccer world. Finishing with a 16-3 overall record and a 9-1 record in the Big-North-Freedom league, the girls soccer team ranked 16th in the state (MaxPreps). Although the team didn't win against Northern Highlands in the North 1, Group 3 quarterfinals, the girls should have all the reason to be extremely proud of their season with four 8 goal wins over their season. Numerous players also established themselves dominant on the field with players Megan Twomey, Cassie Tafuri Del Vecchio, Mary Cochran, Lily Johnson, Kate Langfelder, Julia DiDomizio, and Emily Chico making the All-Freedom Division 1st team. Not only that, but Mia Fulco, Madison Schiller, and Michelle Cardaci made the 2nd team while Maddie Kellogg made the 3rd team (NJ.com).
Girls Tennis:
A tennis player myself, I know how well Coach Marchese can lead a team to greatness. This year was no different as the team finished with an outstanding 14-3 record. Finishing first in the Big-North-Freedom League over school rivals Ridgewood and Northern Highlands, the team displayed its strength through the work of its individual players. For example, Ella Saxton at the singles position was rewarded with a spot on the All-Bergen County 3rd team. Cadie Sauder, Sophia Mosquera, Elizabeth Ring, Caroline Baker, and Anja Kearney made the Freedom Division 1st team along with 2nd team player Rochelle Kitovsky. Coach Marchese also finished as the Freedom Division coach of the year (northjersey.com).
Girls Volleyball:
The girl's volleyball team definitely showed their extensive amount of skills this season. Finishing with a 12-8 overall record, the team ended second in the Big-North-Freedom league with massive victories over school rivals such as a 2-0 win over Indian Hills and a 2-0 win over Northern Highlands. Numerous players this year have also been able to demonstrate their play this season with senior Caroline Thoma connecting on a team high 187 kills, junior Julia Cortorillo racking up 11 blocks, and junior Victoria Sompi garnering 393 assists (NJ.com).
"On paper, our season did not go as well as we hoped," says senior Caroline Thoma. "However, coming off of a three game season last year with a relatively new team, I could not be more proud of how much the team accomplished this season."
Cross Country/Track:
Coached by Coach Manzo along with Coach Nangle, the Ramapo running squad put up great performances this season. Numerous players this year have also put up school record numbers with Jack Grusser (11.20 seconds), Luke Czerepak (11.46), and Will Scordato (11.86) putting up top 10 all time numbers for 100 meter dash. Numerous other runners including Thomas DiVincent (800 meters), Diego Santiago (400m hurdles), and Alex Horgan (1600 and 3200 meters) breaking top three within their respective specialties. Alex Horgan even broke a school record this season by running a 9:34.82 3200 meter run (Athletic.net).
Gymnastics:
Over the course of their season, the gymnastics team has displayed their highly skillful talents in this sport. Led by head coach Michelle Markowski, the gymnastics team has proven their capability of beating big-time names. Some of their biggest wins include a crushing 95.6-75.7 win over Clifton and a 101.15-95.15 win over rival Indian Hills. Not only that, but the team also placed third in the North Jersey Gymnastics League Division B Tournament and second in the Bergen County Championships. Gymnasts Shayne Braver and Allison Acampora also had dominant seasons, both being awarded positions in the NJSIAA Individual Championships.
Senior gymnast Juliana Defino had some especially kind words about the team and their season.
"Our season this year was like no other," says Juliana Defino. "We pushed each other and had incredible team bonding. I am so proud of this team and everyone's positive attitude and resilience, and I will miss the girls very much!"
Cheerleading:
Football games, pep rallies, and overall Ramapo school spirit would surely not be the same without the extraordinary work of our cheerleaders. Led by captains Julia Pesce, Alexa Rioux, Fiona Karwoski, and Lily Farcy, the cheerleading squad has established itself as a premier set of athletes. Recently, the cheerleaders placed first place in their first competition in Rudolph.