Sticks Up For Hockey Season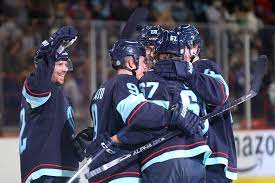 The National Hockey League's preseason has recently come to an end on October 9th, each team having played roughly 6-8 games. Coming off of a Stanley Cup win in 2020, Tampa Bay Lightning is currently ranked number one on ESPN's Power Rankings. Their first regular-season game was scheduled for October 12th against the Pittsburgh Penguins at 7:30 pm. Following was the second official NHL regular-season game, Vegas Golden Knights at Seattle Kraken. Wait, who?
Seattle Kraken is the NHL's newest edition, expanding the league to 32 total teams. They began their first-ever preseason with a win against the Vancouver Canucks. The Pacific Division team concluded their preseason with a 4-2 record, and hockey fans definitely don't have low expectations as to what Seattle will bring to the table. The Vegas Golden Knights were once in the same situation as a new edition to the league, and they ended up making it to the Stanley Cup finals. The turn-outs for expansion teams have increased since the availability of better players during the expansion draft. Student and member of Ramapo's ice hockey team, Jack DeKorte says he's "…super excited to watch the new expansion team this year…". 
Three local teams are all expected to compete for a playoff spot this season. Starting with the New Jersey Devils, who signed star defenseman Dougie Hamilton to a seven-year contract in addition to the emergence of star-center Jack Hughes. 
In addition, the New York Rangers are also looking for a spot to compete for the cup coming off a strong finish to last season. The Rangers will lean heavily on prominent winger Artemi Panarin. They also added some muscle to their lineup with the off season signing of forward Ryan Reaves from the Golden Knights. Jack DeKorte thinks: "The Rangers are a really fun team to watch. Their goaltending has been great, and the addition of Barclay Goodrow is only going to make their team stronger." Mike McLachian, the head coach for Ramapo's JV and Varsity ice hockey teams says, "The Ranger's ownership had 'cleaned house' at the end of last season releasing their head coach and a number of senior executive staff. With change brings some energy at times and whether you agree with the moves or not, it will be interesting how the team responds this season."
Furthermore, the New York Islanders await a strong 2021-2022 season after making a deep playoff run last year. Predictions are high for Long island. They will be locating to a new rink called UBS Arena in Elmont, New York.  Coach McLachian thinks this "…will no doubt create a ton of energy and excitement for all the players, coaches, and fans to really kick start their season. I look for them to have another successful season and be serious contenders in the Eastern Conference again."
October 12th marks the new beginning. Covid-19 did not allow for full capacity stadiums or in some months, fans at all. The 2021-2022 season will provide hockey lovers with a fresh start to spectate the game they love in full-capacity stadiums for the first time in 2 years. Get back to cheering on your favorite hockey teams this season. It starts now.