Male Senior Spotlight: Dylan Snee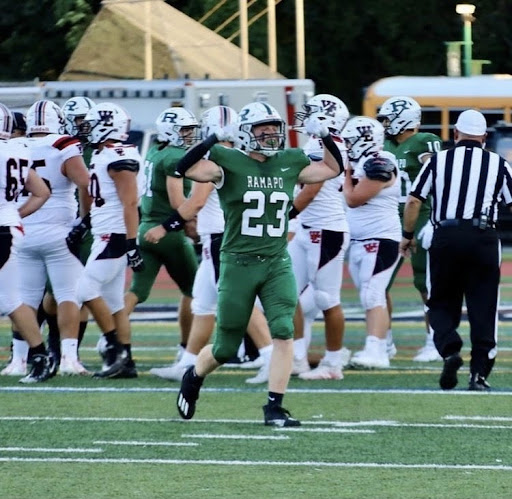 The date's September 3rd, 2021. Ramapo High School is faced off against West Essex in their first official game of the season. Ramapo's on defense. Suddenly, the crowd erupts and linebacker Dylan Snee comes marching from his defensive stop, arms flexed, getting the crowd hyped. At this point, it was confirmed that Dylan Snee is a force to be reckoned with.
Football has always been a significant aspect of Dylan's life. The Snee family is no stranger to the sport. Dylan's father, Chris Snee, was a star guard at Boston College and on the New York Giants, solidifying himself as a 2022 Hall of Fame nominee. Because of his great familial ties to the sport and his built up love for the game, Dylan has made it his personal goal to be the best football player he can possibly be.
"Once I was allowed to play, I took the opportunity," comments Dylan.
Dylan's ultimate goal to be a great player has come to fruition at Ramapo, and his 8 years of intense training has obviously paid off. Dylan Snee was a key part of Ramapo's special teams during his sophomore year, racking up 12 tackles. However, it comes to no one's surprise that Dylan has recently garnered the title of captain and leader of the team as his usage on the defensive end skyrocketed this current year. So far, Dylan has 18 solo tackles, 36 total tackles (6.0 tackles per game), and 1.0 sacks.
Even though numerous key players of the team graduated last year, Dylan along with other seniors such as Daniel Goldberg, Jack Denblaker, Jack Remo, Robbie Travers, and many others have led Ramapo to a hot 6-0 start to the season. Dylan's role as a leader of this dominant squad is highly warranted as he's often described by teammates as not only a hard worker, but a selfless player.
"I do what I'm told and always work 100%," says Dylan, "regardless of if it benefits my stats or not."
The game of football has always been more to Dylan than just awards and recognition.
"The best part about playing on the team is how close we all are to one another," says Dylan. "We are together so much during the year that we have become a family, and it's good to know that I've made some brothers for life."
This appreciation is not one sided. It's clear that Dylan's teammates also share a special appreciation of him as Dylan does with them.
"He's a great player and has shown very good leadership as the captain of our team," says senior defensive end Nick August. "He's an all around great asset to the team."
Just as football will always be a part of his life, so too will Ramapo. When talking about what he'll miss most about Ramapo, Dylan Snee says, "I'm going to miss how close everyone is. I'm always seeing someone in the hall that I know and always know someone in a class; it's pretty special."
While his time at Ramapo might be coming to an end, his time with football is seemingly just beginning. As of now, Dylan is in talks with schools in the Ivy and Patriot League including Dartmouth, Cornell, Fordham, Lafayette, and many others.
And Dylan, while you continue to be a commanding force on the defensive field, let it be known that we here at Ramapo will miss you!