The Haunting Of Bly Manor: A Review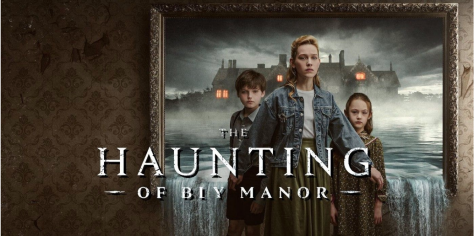 The latest adaption of the novella by Henry James entitled The Turn of the Screw has caused quite a stir within the horror-loving community. The television series aired on Netflix on October 9th of this year and is the second installment in Mike Flannagan's horror anthology series, The Haunting. The newest season, The Haunting of Bly Manor, takes place in England and centers around a young au pair named Dani Clayton. She signs on to take care of two disturbed children, Miles and Flora, who harbor a wretched past. The longer she stays in the manor, the more the secrets of the house begin to unfold, and its dark, heart-shattering origin is revealed. Bly Manor is often compared to its predecessor, The Haunting of Hill House, which aired back in October of 2018. Both stories are written, directed, and portrayed masterfully by the creator, Mike Flannagan, who has spent the past two years perfecting this last season. It is crucial while watching, to separate the two stories in your mind to ensure that you are able to appreciate each story and see how special they are in their own ways. It is also important to keep in the back of your mind that Bly Manor is less of a horror story than Hill House was and leans more gothic romance with horror elements. 
Despite their differences, Bly Manor and Hill House have kept some parts the same. In the second season, you will see Victoria Pedretti, Kate Siegel, Oliver Jackson-Cohen, and Henry Thomas all return for this season, but in jarringly different roles. However, these actors and actresses have done a magnificent job of separating their new characters from their former ones. You don't have to worry about mixing them up! The child actors brought on to fill the shoes of Miles and Flora Wingrave have also blown many away with the skills they've acquired at such tender ages. All of the stars give impressive performances, each stealing the show when they appear on the screen. Also, similar to the first season, Bly Manor contains hidden ghosts throughout the show for you to find, which makes watching extra thrilling and spooky! Plus, both seasons carry strikingly similar themes. This includes, sacrifice, love, loss, and tragedy, and delve into how all of those are intertwined and go hand-in-hand with each other. Bly Manor, just like Hill House, will leave you sobbing, laughing, confused, and genuinely devastated after each episode. With a mere nine episodes, every storyline is thorough and adds depth to the story, meaning there is no filler whatsoever, which makes for a vastly engaging binge-watch.
What sets Flannagan's The Haunting of Bly Manor apart from others in the horror genre is that it doesn't follow common tropes that you would normally see in this type of show. It doesn't use jump-scares just for the sake of scaring the audience, and it connects you to the characters on an existential level. It focuses more on creating ideas that will haunt you, or lines that keep you thinking for hours after you watch rather than giving you an ephemeral sense of fear. Not to mention the raw and vulnerable nature of the show, giving every character a backstory that makes you want to empathize with them no matter what they've done. Bly Manor is not only unique in its storytelling, but also in its purpose. It's very different from other horror shows you've seen before in that it's not trying to shock or frighten you, but break you, and it does just that.
Along with a remarkable storyline, Mike Flannagan sets the tone of the show using breathtaking cinematography and an outstanding score that really captures the overall atmosphere of the series. A mix of all of these elements allows the audience to feel enamored with the story. It is abundantly clear that everyone working on this show together poured their heart and energy into making it an absolute masterpiece for the audience. I would strongly recommend you make time to watch this show and appreciate the contrast of beauty and tragedy within the story. The Haunting of Bly Manor was exceptionally unforgettable and those who watch will find themselves unreservedly immersed in it. This season, just as the one before, was perfectly splendid, and the fans of Mike Flannagan's The Haunting are counting down the days till the third season.