Building Biden's Cabinet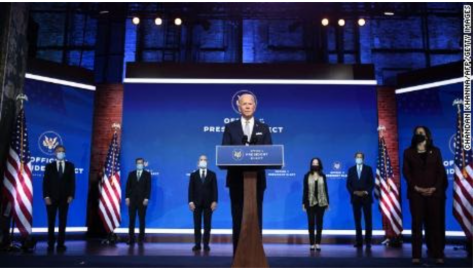 Since becoming the 2020 Presidential Elect, former Vice President Joe Biden has indicated some future actions he plans to take. Namely, asking Americans "to just wear a mask for 100 days" as one method of reducing COVID-19 transmissions (Washington Post). Additionally, he has announced his picks for many cabinet positions. He plans to announce the remaining cabinet positions (as of December 10, 2020) by Christmas, without waiting for the results of the Georgia runoff elections (CNN). 
To no surprise, Biden has selected many familiar faces from the Obama Administration. Macy Eglinton Manner, a senior, commented, "Seeing Joe Biden's Cabinet selections thus far maintains my hope that we will have a talented and experienced Cabinet during Biden's administration. Of the current group, multiple nominees served under the Obama administration, so I expect their already strong relationships with Biden and considerable field expertise to function as the foundation for a solid presidency." 
The unprecedented diversity of Biden's cabinet is an exciting surprise for many Americans. In a statement, Biden said, "I am proud to announce today the first senior White House communications team composed entirely of women. These qualified, experienced communicators bring diverse perspectives to their work and a shared commitment to building this country back better" (CNN). Many of these women are women of color. 
Here is a list of President Elect Biden's Presidential Cabinet Nominees:
Ron Klain, Biden's Vice Presidential Chief of State during the Obama Administration, is set to be nominated as Biden's Chief of Staff. In addition, Mr. Klain has experience as a lawyer on Capitol Hill and as an advisor to President Obama. After serving as the "Ebola czar" under Obama during the outbreak of Ebola in 2014, Klain is a harsh critic of President Trump's response to the Coronavirus Pandemic (New York Times).
Antony Blinken is Biden's nominee for Secretary of State. Blinken co-founded WestExec advisors in 2017 with many other former government officials. WestExec is a strategic partner of Ridgeline, a company that has worked with data and tech start-ups and has received government contracts including many with the Department of Defense. 
Alejandro Mayorkas, a son of Jewish Cuban refugees has been selected as Biden's nominee for the Secretary of Homeland Security. This is a monumental step in creating a diverse cabinet, one of Biden's goals for his presidency. If confirmed, Mayorkas would be the first immigrant and first Hispanic American to lead the Department of Homeland Security (CNN). 
Biden is set to nominate Denis McDonough as his Secretary of Veterans Affairs. McDonough served as Chief of Staff under former President Obama from 2013 to the end of his term in 2017. McDonough was also a former deputy national security adviser. Pete Buttigieg, former Democratic presidential candidate and former mayor of South Bend, Indiana was considered for this role, but ultimately Politico confirmed McDonough as the nominee on the morning of December 10th (New York Post).
Biden's pick for the Director of the Central Intelligence Agency and Attorney General is expected to be announced at the beginning of the week of December 13.