A NBA Offseason for the Ages
Despite all of the challenges and barriers the National Basketball Association had to break through to even give us NBA fans a season, the teams, players, and league officials have still somehow managed to play out an offseason worthy of great discussion. While not as historic as the previous offseason with moves that resulted in Anthony Davis, Russel Westbrook, Paul George, and numerous other renowned superstars forming superteams, the 2020-2021 season surely has much to offer concerning recent transactions and trades.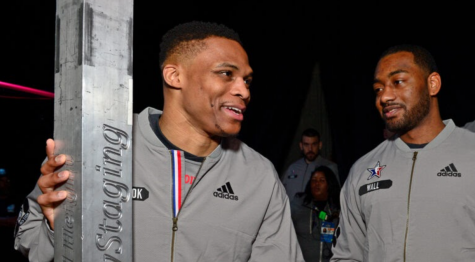 For seemingly years upon years, NBA fans have speculated whether or not former NBA all star John Wall would return to the league, nonetheless return to his former self. And while patient devotees have finally received their positive answer, it seems that John Wall followers won't see him on his usual team. Despite playing on the Washington Wizards for his entire career, Wall has been traded for star point guard Russel Westbrook after the Houston Rockets failed to capitalize on the Westbrook-Harden Tandem. And while this trade surely won't severely increase or decrease the respective team's chance of winning a championship, it will surely provide doubters a chance to see how Wall and Westbrook handle different situations and mentalities.
However, this trade provides newfound speculation towards the infamous James Harden controversy. 2018 MVP James Harden has shown constant interest in leaving the Houston Rockets and joining a contender, the most surprising being the Brooklyn Nets, who acquired stars Kyrie Irving and Kevin Durant previously. However, according to Boston.com, Harden has mentioned numerous other teams including the 76ers, Bucks, and the Heat, thus showing his increasing want to be traded. The John Wall trade and DeMarcus Cousins signing, who was a former superstar but now shell of his former self after severe injuries, show that the Rockets are not willing to make significant moves to keep their superstar. Wherever James Harden ends up, it's surely going to significantly shift the balance of power in the NBA.
Another significant portion of this offseason was that of the top-heavy draft. While fans were only excited about the top 10 picks of this draft, it's still important to consider how some of these new rookies can affect or shift the futures of their respective teams. 
For example, the first overall pick of the draft, Anthony Edwards, is in a peculiar position with the Minnesota Timberwolves organization. When he was first drafted, some speculated that the Timberwolves would trade him or the first pick in general for other assets and players. However, they decided to go through with the pick and matched him with their stars DeAngelo Russel and Karl-Anthony Towns. But with the signing of guard Ricky Rubio, some are confused on the future of the rookie.
With the second overall pick, the Golden State Warriors selected center James Wiseman in order to fill the void of big men on their roster. Almost every NBA analyst and fan predicted this drafting and how he would help the Warriors back on their track of greatness with Steph Curry, Klay Thompson, Draymond Green, and Andrew Wiggins. However, after Klay Thompson experienced another season ending injury, people are once again skeptical of the Warriors' future.
Possibly the most hyped up draft prospect, LaMelo Ball, was drafted by the Hornets with the third pick. Brother of the 2017 second overall pick, Lonzo Ball, LaMelo already helped make NBA history by, according to USA Today, solidifying himself and Lonzo as the only brothers in NBA history to be drafted top 5 in the draft. And of course, it would be blasphemous to mention the ball brothers without LiAngelo Ball, who just signed a non-guaranteed deal with the Detroit Pistons.
Of course, this article would be thousands upon thousands of words long if I were to mention every offseason move. However, some more major ones include:
6th man of the year Montrez Harrel and runner up Dennis Schroeder along with former NBA champion Marc Gasol being signed by the Los Angeles Lakers, making them, once again, favorites to win the Championship.
Danilo Gallinari, Rajon Rondo, Bogdan Bogdanovic, along with the drafting of Onyeka Okongwu make the Atlanta Hawks legitimate playoff contenders.
While the Oklahoma City Thunder did not gain many big time players, GM Sam Presti managed to obtain an absurd 18 first round draft picks through 2027, which can potentially set up a young dynasty (Oklahoman).
With the signing of Chris Paul and Jae Crowder along with the drafting of Jaylen Smith, the Phoenix Suns can potentially go from one of the worst in the league to playoff contenders.
Of course, it is always important to gain the opinion of Ramapo on the subject matter. "Although it would be cool to have three of some of the most incredible players of all time on my favorite team," says Nets fan Ciro Schiro, "I feel a lot more confident with the current lineup, chemistry and play wise. There's just not enough points and possessions to go around for Kyrie, KD, and Harden."
Whether or not your favorite team benefited from the offseason, everyone can admit that the balance of power within the league will lead to a highly competitive season.