Class Is In Session: Lessons in Life, Love, and … Chemistry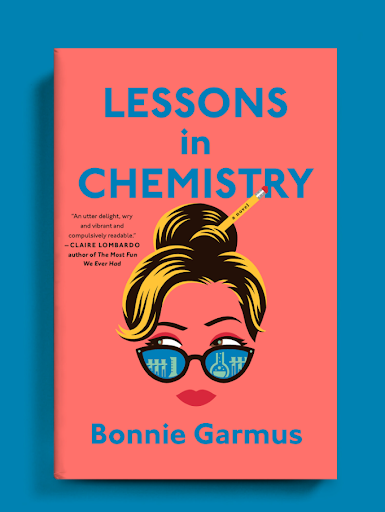 "Children, set the table.  Your mother needs a moment to herself" (Garmus 226).
By 1952, America had entered the Happy Days, the "Golden Age", a time when boys would be boys and girls were sugar and spice and everything nice.  Men liked blue, played sports, and went to work in the morning.  Women liked pink, took the kids to school, and made dinner.  Men were scientists, women secretaries.
Elizabeth Zott is the exception.  In Bonnie Garmus's groundbreaking historical fiction novel, Lessons in Chemistry, Elizabeth breaks the mold, refusing to accept the myth which perpetuates illogical cultural and societal codes and, in so doing, sparks a nationwide debate regarding a woman's role, religion, and acceptance.
Elizabeth and Bonnie Garmus share a great deal of fundamental similarities: both row, are dedicated mothers, love their dogs, and pursue their passions with fervor.  A copywriter and creative director in technology, medicine, and education, Garmus is familiar with the realm of literature but relatively new to writing herself.  Though she has published two short stories in Good Housekeeping and Bon Appetit, Lessons in Chemistry is Garmus's first full-length novel and an impressive one at that.  According to Ramapo's librarian Mrs. Ferro, "As Garmus' debut novel, I loved the dark sense of humor, the relatable characters, and every bit of the story along the way. This book brought out all the 'feels' – laughter, anger, sadness, and sometimes just a sigh. As one of the best books of 2022, it's a MUST READ."  With this unforgettable debut, Garmus is set to change the world, just like her literary counterpart Elizabeth Zott.
A brilliant chemist, Elizabeth's promising career falls flat before it can even begin for one simple reason: she is a woman.  Denied the opportunities open to her male counterparts, Elizabeth accepts a position in the Chemistry Department at Hastings Research Institute, where she encounters genius Calvin Evans.  The bond which develops is permanent and life-altering.  Taking place over the course of ten years, Lessons in Chemistry chronicles the life of Elizabeth Zott as a chemist, lover, single mother, and host of a remarkable cooking show.
Hosting Supper at Six was never the plan.  Elizabeth Zott wanted to study abiogenesis.  Yet, life doesn't take requests, forcing the pragmatic chemist to become the star of the most beloved cooking show in 1960s America.  Defying female conventions, Elizabeth carves her own path in the television industry, ignoring demands to play the perky, seductive housewife.  Elizabeth refuses to play a part, to ever be anyone other than herself: a serious, supportive, and candid scientist.  Entirely genuine, Elizabeth acknowledges that a woman's job as a "wife and loving mother" is difficult, requiring strength and brainpower that women are never given credit for (260).  She proves to the women of America that there is nothing wrong with asking for more from life, that their dreams matter.  Through her undying faith in herself, her abilities, and the potential humanity has for improvement, Elizabeth Zott teaches the women of the 1960s that no one is "just a housewife" (260).
Perfect for fans of Where'd You Go, Bernadette by Maria Semple and Where the Crawdads Sing by Delia Owens, Lessons in Chemistry is a heartwarming, laugh-out-loud novel paying tribute to the strength of those brave enough to stand out in the 1960s, complete with a stunningly quirky ensemble of characters.  Elizabeth's fortitude, honesty, and no-nonsense demeanor are refreshing and utterly satisfying.  Ramapo science teacher Mrs. Angerson raves about the New York Times bestseller: "I love that the protagonist is a strong-willed, courageous, and inspirational woman and an important supporting character is a dog named 6:30! […] Some serious and very real subjects are explored throughout this novel (I don't want to spoil it) in a way that is very entertaining. I highly recommend this must read!"  Lessons in Chemistry is an irresistible study of the elasticity of faith and the power of resilience, science, and the love of an incredible dog.
Next time you're in the bookstore or library, pick up a copy of Bonnie Garmus's Lessons in Chemistry.  Elizabeth Zott is the teacher you didn't know you needed, and class is in session.