Damar Hamlin Tragedy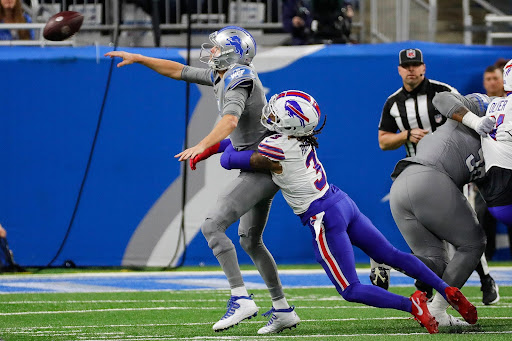 On January 2nd, Damar Hamlin, a 24-year-old safety for the Buffalo Bills suffered a cardiac arrest, collapsing on the field, during a game against the Cincinnati Bengals.
Damar Hamlin, safety for the Buffalo Bills, tackling Jared Goff, quarterback of the Detroit Lions  Photo Source: Detroit Press
 The collapse was caused by the impact of a previous collision. After Hamlin fell, the injury initially didn't look too severe, but that changed in the matter of a few seconds, when players realized how serious the event was. Millions of fans were scared out of their minds for over 20 minutes as Buffalo Bills players blocked Hamlin from being viewed by the public. Hamlin was resuscitated on the field and rushed to the hospital where he remained in critical condition for some time. NFL fans began creating different theories on the situation, as they were against how the NFL was handling the situation (CBS Sports). Ramapo and Indian Hills physics teacher, Mr Touhy, states, "A young guy was able to bounce back so quickly which was super positive, and although it was brutal for a few hours and days, it was amazing to see his recovery. I wonder what's going to happen next year with him."
Hamlin was released from the hospital 12 days after he suffered cardiac arrest. Since then, he has been acting very strange on the internet which is what led to the countless theories from the public. Some claim the whole incident is due to the COVID vaccine, while others believe Hamlin died on the field and the media is covering up for him. Whatever the case may be, it seems that Hamlin is doing well in his recovery and is poking fun at the incident by posting pictures in front of his newly built mural where his body is mysteriously covered and the post is captioned, "CLONE." Hamlin appeared at the AFC Divisional Round game against the Cincinnati Bengals where he waved to fans and threw up a heart with his hands. Hamlin was fully covered in the clothing which he used to post the same images on Twitter, which is what led to the "clone" theories from NFL fans. Yazan Tinawi, Junior from Ramapo High School, states, "I thought it was a little suspicious regarding  how the whole event turned out, and I feel like the NFL is milking it at this point. However, I'm super happy that he is alive and seems to be doing well." 
Hamlin and his family have made a lot of money from all the publicity, donations, and merchandise which they have released. Everyone has a unique stance on the topic, which takes away from how remarkable it is that Damar Hamlin is alive and doing well in his recovery (Sports Illustrated).