Pelé: The Death of a Legend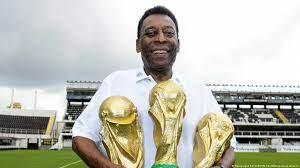 On December 29, 2022, the fútbol -soccer- world lost one of its legends. On Thursday at 3:27 p.m, Brazilian professional footballer Pelé succumbed to his long fought battle with colon cancer at the age of 82. Edson Arantes do Nascimento, otherwise known as Pelé, was born on October 23, 1940, in Três Corações, Brazil. Pelé was a professional footballer who is widely considered one of the greatest and most influential players of all time. Starting his professional career at the age of 15, Pelé rose through the ranks and soon became a star for both his club (Los Santos FC) and his national team (Brazil). Over his 22 year career, he led Brazil to three World Cup victories, while also being the only player in history to ever win 3 World Cup titles (Britannica.com). 
Pelé's popularity spread, making him the most well known footballer of his era. In fact, he was so influential that in 1967, he and his team traveled to play in Nigeria, resulting in a 48 hour cease-fire of their civil war in order to watch him play (Common-goal.org). When asked about the death of Pelé, Ramapo student and soccer enthusiast Antonio Cascio said, "Pelé was a great player and his death was very sad. He will go down as one of the best to ever do it in the sport."  Over the course of his career, he amassed a total of over 1,000 goals, placing him near the top in all time scoring records. In 1993, he was inducted into the National Soccer Hall of Fame, and was named FIFA's co-Player of the Century in 2000. 
Pelé's greatness continued off the field, as he was the father of seven children, and often known for his philanthropy and activism for civil rights and peace. He was a United Nations ambassador for ecology and the environment, and was also involved in various charitable organizations (nytimes.com). Ramapo teacher Sr. Ospina expressed his sadness for the loss of the legend, saying, "Pelés passing has brought a great deal of sadness to the world of soccer. He was an ambassador of the game and highly regarded as one of the greatest players of all time." Pelé's private burial took place on January 2nd, following an 8-mile funeral procession through the streets of Santos, allowing fans around the world to give him one final sendoff.