Trump: Back for 2024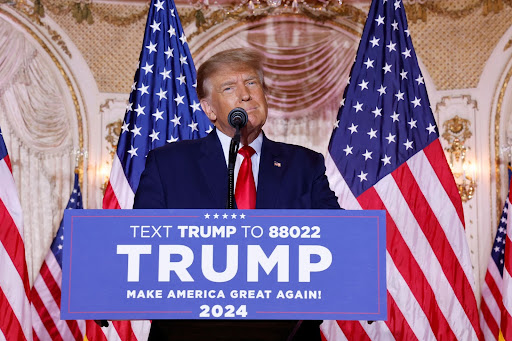 On November 15, 2022, the Former 45th President of the United States of America announced that he would be running for the Republican presidential nomination in 2024 to a flock of close associates and supporters who gathered at his Mar-a-Lago Club in Palm Beach, Florida (CNN). The businessman and former TV personality is looking to become the second president to be elected to two non-consecutive terms. Grover Cleveland, who served as the 22nd and 24th president of the United States, is the only one to do so. Although he has yet to announce his candidacy, current Florida governor Ron DeSantis is considered by many to be Trump's largest competitor for the GOP nomination (Fox News).
Trump has certainly left his mark on American politics, with his presidency from 2016-2020 muddled with federal investigations, two impeachments, and a global pandemic, among many other controversies. Scholar-ran polls, such as the 2021 C-SPAN Presidential Historians Survey and the Siena College Research Institute Presidential Expert Poll of 2022,  consistently rank Trump as one of the worst US presidents of all time. 
Of course, these opinions are met with plenty of opposition. In fact, Trump has amassed what has become one of the most loyal and passionate groups of supporters of any politician that this nation has ever seen in its 246-year history. These supporters laud the economy he built prior to the COVID-19 pandemic, with a 50-year unemployment rate low of 3.5% in February. They also point to the record low poverty rate of 10.5% in 2019 and his tax cuts, most notably from the Tax Cuts and Jobs Act of 2017 (ABC). These numbers are definitely impressive, however, critics argue that more of this economic growth, which was once described by Trump declaring himself as "the greatest jobs president that God ever created," (ABC) was a result of Trump inheriting an ever-developing economy from President Obama, rather than from his own administration's policies. On top of that, Trump's Tax Cuts and Jobs Act of 2017 is often criticized as its benefits were much larger for the upper class and in particular, the top 1% (Bloomberg). This was seen as hypocritical by many as he constantly branded himself prior to his 2016 election as a savior to the shrinking middle class in America (Brookings).
It is also unreasonable to ignore the impact of the COVID-19 pandemic on Trump's legacy both economically and socially. Americans feel that his response to the virus was extremely poor and he often misguided the American public by downplaying its severity. "You can do it. You don't have to do it. I'm choosing not to do it, but some people may want to do it, and that's OK. It may be good. Probably will. They're making a recommendation. It's only a recommendation," Trump said on April 3, 2020 when discussing whether or not he would wear a face mask (NPR). On the contrary, some people contend that Trump was put in an impossible situation when information and data on COVID-19 seemed to change every day. For instance, the CDC's stance on masks early on in the pandemic was extremely ambiguous. As of March 24, 2020, their stance on masks was that "Healthy people who do not work in the healthcare sector and are not taking care of an infected person at home do not need to wear masks" (LA Times). It wasn't until July 14, 2020, when Dr. Robert Redfield, director of the CDC, advised that "now's the time to wear a mask" (LA Times) and that if every citizen in the country donned a mask, the United States could contain the COVID-19 pandemic in one or two months.
Ramapo has their own opinions on the subject. Junior Ben Fischer believes that Trump "accentuated the idea that the election was rigged" which set a dangerous precedent for future elections. "No matter how future elections go there will always be people saying it's rigged either way it goes. This will make people question the importance of their vote." Ben is referring to the January 6 United States Capitol attack in which a mob of Trump supporters stormed the Capitol building after he claimed that the 2020 election was "stolen by emboldened radical-left Democrats" (BBC). When asked about how he thinks Trump can win the Republican nomination, and maybe even the 2024 election, junior Tristan Walder answered, "If he focuses on bringing the economy back on track and capitalize on the economic failures of Joe Biden, similar to how he took advantage of the disappointments of the Obama Administration in 2016, I think he has a fair chance."