Members of Virginia Football Team Killed in Mass Shooting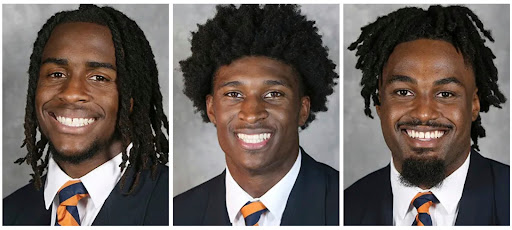 On November 13th, three football players at the University of Virginia were murdered. The deaths of junior receiver Lavel Davis Jr, junior receiver Devin Chandler, and junior defensive end/linebacker D'Sean Perry, were all mourned by Virginia students and the rest of the nation.  
Authorities were quickly able to recognize who was responsible for the shooting. Former student/player identified as Christopher Darnell Jones Jr. was listed on the Virginia roster from 2018 as a freshman running back. Jones was arrested shortly before 11AM in Henrico County, Virginia and was charged with three counts of using a handgun in commision felony as well as three counts of second-degree murder. He previously played for Petersburg High School after playing for Varina High School which are both located in Virginia. 
It was later announced that two other students were shot and hospitalized. The students' names have not been announced; one student was doing well and the other was left in critical condition. When asked about how he reacted to the news of the tragic event, Coach Yasosky stated, "When I first read about the event that happened in Virginia, my heart immediately sank. You forget that things like this really happen around the world." A Junior at Ramapo by the name of Ben Fischer had a very similar thought process, stating  "I pray for the lives affected by the horrific event and I hope that the student in critical condition is able to pull through." 
The player in critical condition was announced as current junior running back, Michael Hollins. Hollins' father announced that his son was considered to be in 'stable' condition which gives hope for the young man. The mother of Michael, Brenda announced, "Mike is a fighter—-and he's showing it" (ESPN.com). 
The men's basketball game on the Monday following the event, between Virginia against Northern Iowa, was canceled. Classes and all academic activities scheduled for Tuesday were canceled as well. The women's basketball team of Virginia Tech showed support for Virginia by putting on special warm-up jerseys to honor the victims of the shooting (ESPN.com). Brent Pry, who is the coach of Virginia Tech, publicly stated on Twitter, "On behalf of our entire Virginia Tech football family … We are praying, sending sympathy and support to Coach Elliott, his staff, his team, their families, and the entire @UVA community" (NY Times.com).
Sourcing: 
https://www.espn.com/college-football/story/_/id/35025779/police-seek-ex-virginia-football-player-campus-shooting 
https://www.nytimes.com/2022/11/14/us/uva-shooting-victims.html