Food, Football, and Family: Ramapo's Thanksgiving Traditions and Recipes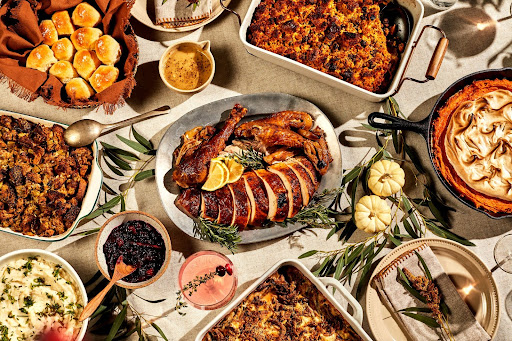 There is nothing more heartwarming than a family sitting around their Thanksgiving table, grateful for each other and the meal before them. We have come to associate this beloved holiday with the smell of turkey roasting in the oven and apples tossed in cinnamon, the taste of mashed potatoes drenched in gravy and cold, sweet cranberry sauce, the sound of laughing children, football fans screaming from the couch, and an overwhelmed cook in the kitchen. A holiday celebrated only by the United States, Thanksgiving is an inherent part of American culture. Every family is different, their tables replete with different foods, different traditions, and different people sitting around it. Thanksgiving traditions are meant to be shared, and Ramapo students and faculty have some incredible ones.
Unsurprisingly, many traditions revolve around the iconic Thanksgiving turkey. Whether it's overcooked, undercooked, or a juicy masterpiece, the turkey is often a result of hours of frantic, chaotic fun in the kitchen. In the case of Senior Maria Katsouris, "every year, [her] family gives the turkey a name that starts with the letter 'T' and now [they're] running out of names." While the turkey cooks and its savory scent wafts through the house, Katsouris' family places a handwritten note with the turkey's name atop the stove. Previous names have included Terry, Tom, and Talula.
Some Thanksgivings are small affairs, while others consist of entire extended families, complete with the crazy uncle, fun aunt, crying baby cousin, nitpicking grandmother, and all the rest. Yet, large family gatherings are no less intimate. Ramapo History teacher Mr. Verdon says, "We always have a beautiful Thanksgiving at my aunt's house in Glen Rock that has grown in size year after year to the point where we have three different tables – one for each of the generations. The older adults sit at one table in the kitchen, my cousins and I sit in the dining room, and my nieces and nephews sit in the living room. In total, we probably have close to 50 family members and every year, being there, I'm reminded of all of the amazing memories that we have shared together." Of course, many of those memories must involve food. It is Thanksgiving, afterall. At the Verdon table, "Each family brings a side dish for dinner, and [Mr. Verdon] bakes the desserts – this year [he's] making mini lava cakes, cookies, and cake pops!" After hours of food and fun, Mr. Verdon and his family engage in "a game of trivial pursuit at the very end of the night before everyone heads home."
Whether it's your grandmother's secret recipe or the recipe from the chocolate chip bag, cooking is an integral part of Thanksgiving. Food unites families. Passed down from generation to generation, recipes are written records of the past, and Senior Alex Jolakian has been generous enough to share one such recipe with the Ramapo community: "I wanted to share a little piece of history with you, this recipe was left behind by the previous owner of our home in Wyckoff. My Mom has made it tradition that we make this every Thanksgiving." Jolakian's recipe – an "Easy Apple Crisp" – can be found below. Jolakian adds, "We also make sure we find the wishbone in the turkey and my sister and I see whose luck is better."
A day of food, football, and, most importantly, family, Thanksgiving is a time to sit down, take a breath, and remind yourself of all you have to be grateful for. Freshman Sienna Rotella fully understands how precious this time is, having said: "Year after year I love making memories with my family on Thanksgiving. I enjoy going to my mom's side of the family, eating with them, and catching up. It is always such a fun time and makes me realize how much I have to be thankful for." Although Rotella needs no reminder, sometimes, as a society, we forget to appreciate what we have – our family, our friends, the opportunities we have been given, the roof over our head, the food on our table. We must learn to use Thanksgiving to show our appreciation, our gratitude, our love. Next year, make sure to hug your relatives, help in the kitchen, play a game with your cousins and siblings, join those football fans on the couch – appreciate the people you love. Take a breath.
For Thanksgiving recipes provided by Ramapo students and staff, please see below.
Recipes:
Easy Apple Crisp:
Courtesy of Alex Jolakian
Ingredients:
– 8 cups peeled, sliced apples
– ½ cups brown sugar, packed
– ¼ cups sugar
– ½ cups flour
– ½ cups quick cooking oats
– ¼ butter, softened
– ½ teaspoons cinnamon
– ¼ teaspoons nutmeg
Instructions:
1. Preheat oven to 375 degrees.
2. Grease 8 in. square pan and spray with Pam.
3. Arrange apples in dish.
4. Mix remaining ingredients to make crumbly mixture and sprinkle over top of apples.
5. Bake 30-40 minutes until mixture is browned and crispy in appearance.
Apple Cake:
Courtesy of Mrs. Deamer
Ingredients:
– 4 large apples – 2 Granny Smith, 2 Honeycrisp, or any good baking apples
– 2 ½ cups of sugar – separated ½ cup, 2 cups
– 4 teaspoons cinnamon
– 3 cups flour
– 3 teaspoons baking powder
– 4 large eggs
– 2 ½ teaspoons vanilla
– 1 cup cooking oil
– ½ cup orange juice
Instructions:
1. Preheat the oven to 350 degrees.
2. Peel and slice apples. Combine ½ cup sugar and cinnamon. Put apples in a bowl and coat with cinnamon sugar mixture. Set aside.
3. For the batter, beat the remaining ingredients until smooth.
4. Grease and flour a tube cake pan.
5. Pour ½ the batter into the tube pan, then pour ½ of the apple filling.
6. Pour the rest of the batter over the apple filling and finally top with the remaining apple filling.
7. Bake for 1 hour 20 minutes.
Optional: serve with whipped cream and/or caramel sauce.