The Ethics of Writing Real People: Blonde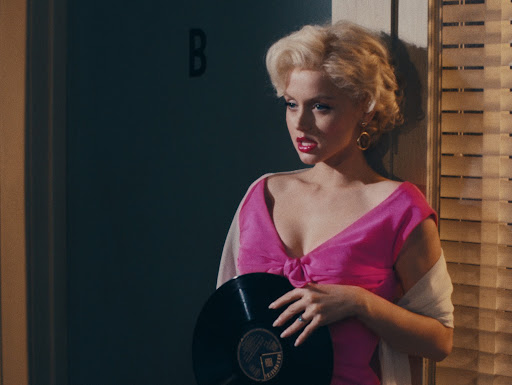 Marilyn Monroe. When people hear her name, they're brought back to Old Hollywood. Lavish dresses, heavy pearls, and grace — All things that Monroe embodied when it came to her indelible image. Although tainted by a tragic death and her fair share of scandals, nothing was ever able to outshine her passionate heart and natural ability to draw people's attention on and off of the screen.
In September, Netflix introduced the book-to-screen biopic film Blonde to its audiences. Revolving around the 1950s idol Marilyn Monroe, it tells a largely fictional story of the actress. The film has been prominent online for its controversial depictions of real-life people and events, and many people have opposing opinions. Ramapo senior Ella Fried worries that Blonde could "spread a lot of misinformation" and lead watchers to "question which parts were real and which were fictional," because she knows not everyone will take the time to do their own research like she did.
Blonde has received tons of backlash for its portrayal of Monroe, receiving an audience score of 32% on Rotten Tomatoes. The movie contains multiple graphic scenes that included characters based on real people, like John F. Kennedy, which happen to be mostly fictitious. This could be seen as defaming the reputation of these individuals, as people assume the film follows Marilyn's actual story as a Hollywood star. Bella Diaz, a senior at Ramapo, shares how excited she was to hear that there would be a movie about Monroe. However, after getting to see Blonde, she described it as "upsetting, misogynistic and disturbing." She found the inaccuracy of the film to be offensive. Not to mention the "heavy focus on sexualizing Marilyn" and blatant disregard for her accomplishments and career. Diaz explains that, for a story that claims to be a "feminist take on Marilyn's story," it was truly unsettling to see her painted as a sex object even decades later, despite fighting "her entire career to be taken seriously as an actress."
Some also disapproved of the way Monroe's persona was used to exploit her suffering without understanding who she was outside of that. As one Cosmopolitan article states, model Emily Ratajkowski said the movie was "fetishizing female pain, even in death." However, others defended it saying that movies, especially ones based on actual people, can't shy away from that kind of stuff. Adrien Brody, an actor in Blonde, claims "[T]he novel and the film are both rife with themes of exploitation and trauma. And Marilyn's life, unfortunately, was full of that" (Cosmopolitan).
It seems that much of the discourse has to do with not only an incorrect retelling of Monroe's experiences but also a lack of profoundness regarding who she was as a woman. Discussing a film like this as heavily as people are will hopefully lead to an increase in more respectful and accurate accounts of people's lives. Ones that treat those that inspired them not as shallow characters, but as real people.