Club Highlight: Environmental Club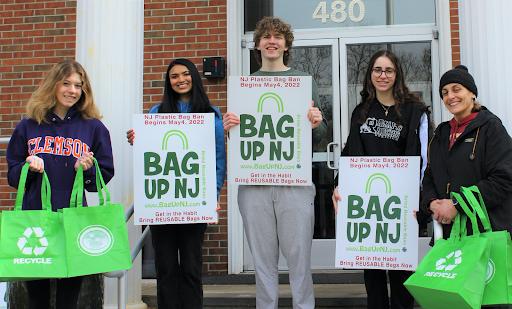 Embrace your inner green thumb and join Ramapo's Environmental Club! By spending time with fellow students who share a passion for conserving the planet, you will be able to make connections, learn about the ins and outs of crafting bills and making formal changes to the way we live, and get outside for some hands-on experiences. 
What Activities do Members Participate In?
Junior Erin Freeman, who is an officer for the club, says, "at the Environmental Club, we participate in various cleanups and planting activities to give back to the environment which is something we all enjoy." Another great local initiative that members have participated in is the Trex Plastic Film Challenge where they were able to "collect 369 pounds of plastic," says Ms. Angerson, the faculty advisor of the club. Environmental Club members not only want to help the local community by doing things like planting trees, but they help with local government and state government. The club has partnered with the Franklin Lakes Environmental Commission which has allowed them to further their interest in making a difference in our area. According to the town of Franklin Lakes' website, the Environmental Commission aims to preserve natural resources and they act as an "information resource" for the people. A recent initiative that club members have been participating in is the plastic bag ban, which is going to be implemented on May 4 in New Jersey. Members have worked in an organization called Bag Up NJ to inform those around them about the news and how they can prepare for this state-wide plastic bag law.
What Makes Environmental Club So Special?
Through speaking with those involved in the club, it is evident that they are motivated and driven to create a better world for our present and future. "I love advocating for my environment and warning people of the plastic bag ban so all of a sudden they aren't shocked when they can't use single use bags at their local grocery store," says Freeman. "We need to keep volunteering and help regulate the changing environment." Every member contributes their own skills and ideas to make something big happen, which is precisely why so much change has been made. "I've been advising the Environmental Club for close to 15 years now and issues surrounding the environment are very important to me," remarks Ms. Angerson. "I believe that bringing about an awareness of environmental issues is the only way that these issues can be addressed and potentially solved – and students (the younger generation) are in a position to make a difference."
Make the world a place you're proud of and join the Environmental Club!
Sources:
Angerson, Kim, Ms. E-mail interview with the author. 27 Apr. 2022.
"Ban on Single-Use Plastic Bags – Students Helping to Promote Awareness – Takes 
     Effect on May 4, 2022." Franklin Lakes, www.franklinlakes.org/ 
     index.asp?SEC=A8BDF9D5-F886-409E-8444-682824D982E3&DE=57300B0A-2C57-4589-91E1-4FE 
     D16EF2388. Accessed 26 Apr. 2022.
"Environmental Commission." Franklin Lakes, www.franklinlakes.org/ec. Accessed 
     25 Apr. 2022.
Freeman, Erin. Personal interview with the author. 24 Apr. 2022.